Uncover the true potential of GenAI with our eCommerce guide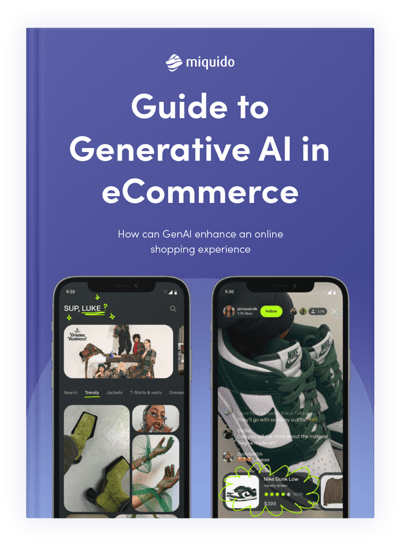 Why supercharge your eCommerce with GenAI?
Generative artificial intelligence is estimated to have an impact of $2.6 to $4.4 trillion on the global economy in the coming years. To put that into perspective, this amount is greater than the GDP of the United Kingdom in 2022, which amounted to 2.75 trillion USD. GenAI has the potential to influence various market sectors, such as banking, entertainment, and eCommerce. By 2045, AI is expected to automate over half of the processes in these industries. In 2023, Gen AI and other foundation models are evolving at record speed. Almost every eCommerce company tries to improve its processes or build new business avenues with Generative AI. But despite their equally great desire to capitalise or create a competitive advantage using these innovations, some businesses are spectacularly successful. Others – spectacularly burn their budget.
The eCommerce Guide to Generative AI will help you successfully navigate this transformative journey, steering clear of budget pitfalls and embracing a holistic approach that completely overhauls your organisational infrastructure.

Jerzy Biernacki
Generative AI Expert
Chief AI Officer at Miquido
Download our guide and be the first to know
How GenAI can help you reduce customer service, software development, and content creation costs

How to optimise inventory management using generative AI

In what eCommerce tasks GenAI outperforms human experts

How to tailor large language models (LLMs) to meet your custom business needs

Which eCommerce companies already successfully employ Gen AI-based solutions
How to drive your business growth with AI
Fill out the form and download the first expert publication dedicated to GenAI and eCommerce. Whether you are an entrepreneur, investor, tech enthusiast, or business aficionado, our guide will help you to identify trends, benefits, and tips explicitly tailored for eCommerce companies, fully unlocking the potential of the AI boom.